Drake software & Versicom Communications integrate the toll-free tax infoline
Automatically send your customers their return and refund status via Text And Email

Improve Customer Satisfaction
Your clients will appreciate receiving information quickly about their tax return or refund.

Increase Productivity
Eliminate the chore of notifying your clients about their return or refund. TFTI automates these communications to allow you to focus on other important tasks.

No Set-up Needed
TFTI is completely integrated into your tax software and supports all electronically filed returns

Reduce Stress
Fewer status calls will quiet the phones and reduce stress.

Present a Professional Image
TFTI proactively notifies clients with accurate, timely information. Clients know their returns have been handled by trusted professionals.

Reduce IRS Reject and Retransmit Time
IRS reject alerts satisfy the 24-hour notification requirement and advise clients what to do to resolve the problem so that returns can be retransmitted.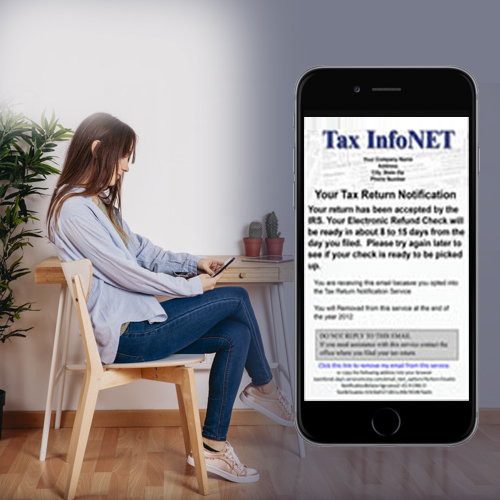 Versicom Communications and Drake Software have partnered to offer an integrated Toll-Free Tax Infoline and Tax InfoNet solution.


TFTI allows your clients to receive up-to-the-minute information on their tax return through automated email or text message alerts or the Tax InfoNet app. In addition, TFTI also includes return status lookup 24 hours a day using a toll-free phone number or by logging onto www.taxinfonet.com


Best of all, TFTI is completely integrated into your Drake software, making it easier than ever to serve your clients.